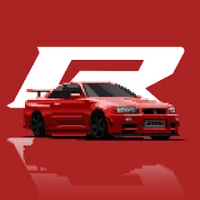 APEX Racer (Mod, Money)
Updated v0.6.1:
Today, 01:51
APEX Racer
- I present to your attention a race in a classic, pixel 2D style on Android - you will have cool sports cars and an exciting race in all locations of the world!
In the APEX Racer game, you will find many levels and tracks where you can show your driving skills and compete with other racers. Each level has its own characteristics that require you not only speed, but also dexterity and tact to bypass obstacles and reach the finish line first.
In addition, career mode is available in the game, where you can develop your character and purchase new cars. Your task is to win races, earn money and upgrade your cars to become a real king of the roads.
APEX Racer will delight you with beautiful graphics, dynamic music and the ability to play both alone and with friends in multiplayer mode.
In addition, the game has many options for customizing your car, ranging from choosing a color and coloring, to installing new parts and improvements to achieve maximum performance on the track.
Download APEX Racer
APEX Racer is a great game for fans of racing simulators who want to feel like a real racer and compete with other players from all over the world.
Download APEX Racer (Mod, Money)_v0.6.1.apk
Installations: ~2 173 | Size: 117 MB
🔔 Сообщите нам – если требуется обновление!