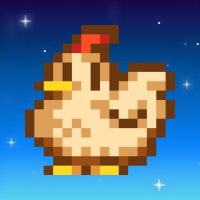 Stardew Valley (Mod, Unlimited Money)
Stardew Valley (Mod, Unlimited Money) is a real HIT among role-playing games in which you will plunge into farming and life in the village - build a farm and meet a girlfriend, get married and have children, and also take care of your farm, and in particular animals and a vegetable garden with plants!
Gameplay:
In the game Stardew Valley, the player inherits an abandoned farm in the village of Pelican Town, where he begins his farming life.
The gameplay of the game includes the following elements:
Farm Management: the player can plant and water plants, breed animals, build buildings, etc.

Exploring the village: the player can meet various characters, communicate with them and participate in the events taking place in the village.

Resource extraction: The player can explore mines and extract resources that allow him to create new items and improve his skills.

The social component: the player can establish relationships with other characters, give them gifts and even enter into romantic relationships.
Features of the game:
Realistic gameplay that allows the player to fully immerse themselves in farming life;

An open world full of possibilities and hidden secrets;

A variety of tasks and achievements that help the player to develop and enjoy the game;

RPG-specific elements such as skills, crafting and battles;

Cozy atmosphere and attractive design;

Multiplayer-a mode that allows you to play with friends online.
Download Stardew Valley for free
The Stardew Valley game can be downloaded from our website. To download the game, just go to the download page and follow the on-screen instructions.
As a result, Stardew Valley is a game that allows the player to enjoy life on the farm, explore the rhythm of nature and enjoy socializing with other characters in the village. The game is a great game for those who are looking for peace and relaxation, as well as for those who love the plot component in games. The richness of gameplay and features, including many characters and various branches of the story development, allows the player to stay in the game for a long time. You can download the game from our website without any problems, so do not miss the opportunity to try this exciting game.
Download Stardew Valley (Mod, Unlimited Money)_v1.5.6.39.apk
Installations: ~53 | Size: 362 MB
🔔 Сообщите нам – если требуется обновление!
#Role-playing RPGs #Simulators #HD #Ru #Free #No cache #Mod