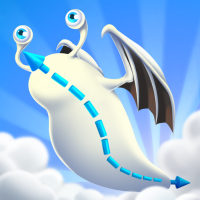 Creature Creator (full version)
Updated v1.1.25:
22-05-2023, 16:48
Creature Creator (full version) is quite an interesting game in which you immerse yourself in the virtual world of monsters and dragons, you can create your own characters and participate in various competitions with other players. For a single player game there are many quests and battles with enemies!
As you progress through the game, you will collect and mine items that will help you upgrade your character! The game Creature Creator has several modes and each is unique in its own way, for example, there is a creature creation mode, creature coloring mode and others. And only when you are done, you will be able to start playing online and complete tasks.
Download Creature Creator
If you came here to download the game Creature Creator for Android, then you have come to the right place and the game can be downloaded now from our server!
Download Creature Creator (full version)_v1.1.25.apk
Installations: ~342 | Size: 286 MB
🔔 Сообщите нам – если требуется обновление!