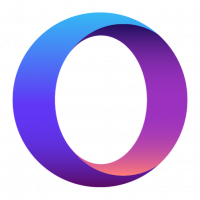 Opera Touch
✦ Opera
Updated v2.9.9:
7-05-2023, 18:14
Opera Touch is a browser that has been designed specifically for use on smartphone touch screens. It offers a user-friendly interface that allows you to quickly and easily navigate through web pages, as well as quickly search for the information you need. Opera Touch has a convenient set of functions and can be useful both for everyday use and for work.
Opera Touch Features:
One-handed operation: The browser is equipped with a user-friendly interface that allows you to control it with one hand. The control keys are located at the bottom of the screen, and they are easy to press with your thumb.
Quick Access to Search: Opera Touch simplifies the search by allowing you to quickly start typing a search query by simply opening a new tab.
Flow - Data transfer between devices: Flow is a synchronization function that allows you to transfer links, notes and other files between devices on which Opera is installed, with a simple swipe of your finger.
Quick access to your favorite sites: The browser makes it easy to save important sites on the home screen to quickly access them.
Improved security: Opera Touch is equipped with protection against malicious sites and phishing. It also blocks ads and tracking.
Password Synchronization: Opera Touch automatically saves your passwords and they are synchronized between devices.
Does not require installation: The browser is available for installation on Android devices and does not require complex configuration.
Fast Page Loading: The browser uses Turbo technology, which compresses pages for fast loading, even with a poor Internet connection.
Download Opera Touch programs for Android you can follow the links below! Enjoy using it!
Download Opera Touch_v2.9.9.apk
Installations: ~368 | Size: 35.69 MB
🔔 Сообщите нам – если требуется обновление!