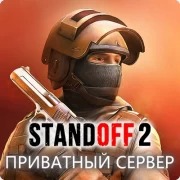 Private Server Standoff 2 Anton Snak
Updated v0.6.5.1:
23-08-2023, 20:32
Private server Standoff 2 Anton Snak is an unofficial server of the game (privatka), which was created by fans and blogger Anton, the game presents many additional opportunities for players, including opening cases, changing skins for weapons. In this review, we will look at the gameplay of the game on a private server and its features.
Standoff 2 is a popular online first-person shooter game.
Gameplay of the game:
The gameplay on the Standoff 2 Anton Snak private server is similar to the original game, but has a number of additional features. Additional game modes are available on the server, such as Zombie mode , where players can play as zombies and attack survivors. Also on the server there is an opportunity to customize weapons (use skins) and game graphics, which allows you to improve the performance of the game on weak devices. The game also has a bot game mode, where players can train their skills without the presence of other players.
Features of the game:
Additional game modes, including zombie mode and bot mode.

Customizable weapons and game graphics.

Improved performance on weak devices.

Different cards to play.

User-friendly interface.

Access to new skins and weapons.
Download Private Server Standoff 2 Anton Snak
The game "Private Server Standoff 2 from Anton Snak" is not available in the official app stores, but can be downloaded from our AndroDow server. At the same time, it is necessary to understand that the use of unofficial servers can lead to the blocking of the account on the official server . Players who have decided to play on a private server Standoff 2 Anton Snak should be prepared for the fact that there may be errors and malfunctions on the server, since (privatka) is always finalized by Anton.
Download Private Server Standoff 2 Anton Snak_v0.6.5.1.apk
Installations: ~26 135 | Size: 888 MB
🔔 Let us – know if an update is required!