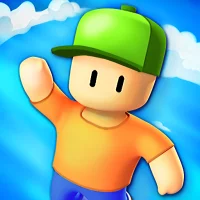 Stumble Guys (MOD, Latest Version)
Updated v0.58.2:
18-10-2023, 01:23
Stumble Guys - now you definitely have to download the best game in which you added the character of MrBeast, the most popular YouTube blogger! The Stumble Guys game is a multiplayer online runner for up to 32 people at the same time! You will go round by round and your goal will be the finish line to which you need to get. Getting to the end is not so easy, you will be stuck in the wheels, well, actually, you can also arrange for your enemies to win and come to the finish line first!
Game Features:
The race for distilling, the first one to come running, he won;

A lot of obstacles, like a march throw;

Battle Royale - Online!

Real physics, bright colors, extensive options in settings;

A lot of fun moments in the form of spans and so on.
What's new:
A new character in the form of MrBeast has been added to the game, as well as a special level that was developed by MrBeast himself, there are even more obstacles in it than in other locations! For those who don't know, then MrBeast - aka Jimmy Donaldson is one of the most popular YouTube bloggers in the world!
Download Stumble Guys
Try not to miss your victory, be on guard and careful not to fall into a cliff and always keep an eye on your enemies, keep them on a leash and at the right moment push and knock them off the path. Have a nice game, become a champion!
Download Stumble Guys (MOD, Latest Version)_v0.58.2.apk
Installations: ~74 190 | Size: 198 MB
🔔 Let us – know if an update is required!