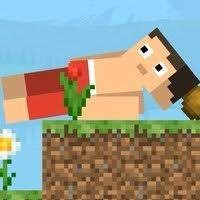 The Theory of Everything
✦ Theory of Everything
Updated v1.0.2:
4-06-2023, 10:41
Theory of Everything - I present to your attention a new project from a Russian creator who managed to make a 2D game in pixel style, just like in Minecraft - you can download and test the game now!
The game weighs very little and swings quickly, so you don't have to wait long for the download! As you know, the game has been developed for a long time, even before the off-release there was a version for fans, which gained a crazy crowd of Minecraft fans and the game "The Theory of Everything " went to them!
Download The Theory of Everything
In the game you will fully immerse yourself in two-dimensional pixel graphics like in Tetris, only color, in the game you will be left to yourself! There are no restrictions in the game, do whatever you want! Creatures and craft, read out new recipes in a special book. Learn the game along and completely, discover new items and mechanics, enjoy the gameplay full of exciting experiments. Download the game now on Android, you can follow the links below for free!
Download The Theory of Everything_v1.0.2.apk
Installations: ~22 956 | Size: 61.21 MB
🔔 Let us – know if an update is required!
#Priklyucheniya Adventures #Simulators #HD #Ru #Free #No cache