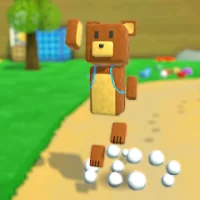 Super Bear Adventure (MOD, All open)
Updated v10.4.2 mod:
4-09-2023, 16:01
Super Bear Adventure - embark on an unforgettable adventure through the virtual world in 6 locations with a Bear, learn important secrets and talk to the inhabitants of the locations and their kingdom, collect money and unlock cool hats, as well as fight enemies on your way! The game is implemented under the inspiration of the 90s and therefore 30+ people will come in, download the hacked cheat version where everything is open, you can follow the links below!
Super Bear Adventure
Playing the game is quite simple, you control the Bear on your screen by a specially made joystick on the touch screen on the left side, you can jump and attack your enemies by pressing special buttons. Your task in the game is quite interesting, you noticed that all the animals in your forest have become aggressive and now you have to find out what happened to them!
Download Super Bear Adventure
You can download the popular Super Bear Adventure 3D platformer for Android for free from our website. Finally, the game is worth noting a very beautiful graphics, smooth gameplay, interesting gameplay from which you do not want to leave!
Download Super Bear Adventure (MOD, All open)_v10.4.2.apk
Installations: ~15 193 | Size: 129 MB
🔔 Let us – know if an update is required!
#Priklyucheniya Adventures #Action #Casual #HD #3D #Ru #Free #No cache #Mod