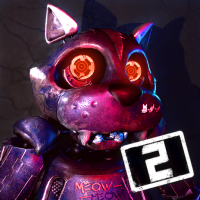 CASE 2: Animatronics Horror
✦ OOO VALNAT
CASE 2: Animatronics Horror is a horror adventure game developed by OOO VALNAT. Players will play as a detective named John Bishop, who must solve the mystery of the murders in a dark hospital. The game is a continuation of CASE: Animatronics, and it deserves the attention of fans of horror games.
Gameplay:
Players will have to explore the hospital, collect keys and solve puzzles to advance further in the game. But the players have to be careful because they are not alone in this building. There are animatronic killers here who will try to kill the player.
The game has a variety of devices that the player can use in order to survive. This includes surveillance cameras, flashlights, phones, etc. The player must use all his knowledge and tools to survive in this dark building.
Features of the game:
Addictive gameplay that offers players a unique horror experience

Challenging puzzles and quests that will not let you get bored

Various devices that players can use to survive

A critical storyline that will keep the player in suspense until the end of the game

Scary animatronics that will haunt the player at every turn
Download CASE 2: Animatronics Horror
CASE 2: Animatronics Horror can be downloaded from our website by following the link. The game is available for download on various operating systems, including Windows and Android. The application is provided as an APK file. Please note that downloading the game from our website guarantees that there is no malicious software that could endanger your device.
Download CASE 2: Animatronics Horror_v1.1.apk
Installations: ~31 | Size: 699 MB
🔔 Сообщите нам – если требуется обновление!