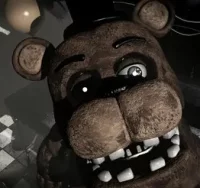 FNAF 1
FNAF 1 is the best horror according to Androidow in which you are offered to play as a security guard of a pizzeria where children and their parents come for delicious food, as well as to look at robots Freddy Fazber and his friends, who are the attraction of the pizzeria. All the robots presented are programmed to please customers during the day, but as soon as night falls, something strange happens that you will have to deal with or at least hold out for 5 nights and not quit!
Gameplay of the game:
You will play as a pizzeria security guard only at night, you will be provided with an office with video surveillance of every corner of Freddy Fazbear's Pizza. It is worth considering that you will have a limited supply of electricity that you can use and therefore you will also have a flashlight and a tablet. As soon as night falls, you should be on the alert! Look for animatronics on the cameras if they are not in their places, first of all you have to find Freddy Bear, and after the rest! Don't let animatronics near your office to continue the game and not lose!
Download FNAF 1
Well? Is it weak for you to last five nights at Freddy's in the game FNAF 1 on Android ? If not, then download the game from our website right now for free - this is a hacked, full version!
Download FNAF 1_v2.0.4.apk
Installations: ~1 041 | Size: 109 MB
🔔 Let us – know if an update is required!
# Horror #Priklyucheniya Adventures #Action #HD #3D #Ru #Free #No cache #Mod