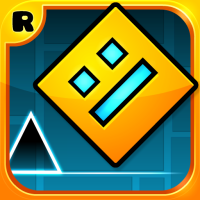 Geometry Dash (Mod Menu, full, Noclip, Speed hax)
Updated v2.111:
3-06-2023, 19:27
Geometry Dash is perhaps the most difficult legendary Android game that has been in the top of arcade games for more than 10 years. At the moment there are many modifications that reduce the speed (Noclip), mod menu and other not uninteresting hacked versions including the original for the most agile and reactive!
Gameplay in the game:
The simplest gameplay is the way to success and it is in the game «Геометрия Даш» it's insanely simple and intuitive, you just control a character in the form of a square in a geometric 2D space, your square is constantly in motion and with the passage of a certain distance it starts to move even faster – this is the whole complexity of the game you have to have time to overcome obstacles and not crash into obstacles in in the form of walls, saws and so on to score as many points as possible. With each meter passed, you will honor yourself like on pins and needles – and it was for such moments that mods were invented so that everyone could try their luck in passing Geometry Dash on Android !
Control of the game: it's very simple to control a square character and you can do it with one finger, as soon as an obstacle appears in front of you, you have to press your finger on the screen to make the square jump!
Geometry Dash all versions:
Immortality: this mod allows you to pass all the levels without touching the controls of the game, your character just passes through all the obstacles.
Mod Menu: this is a super mod that includes all the other mods and allows you to run each one individually or all together.
Mod for speed: with this HACK, you can go through the whole game completely, as your square will move very slowly, and you will have time to overcome obstacles.
Features of the game:
Mod with the ability to change the skins and models of the square;

The opportunity to get a lot of points and coins;

Great rhythmic music;

All modifications in one place.
Download Geometry Dash
You no longer need to look for a working mod, now everything is in one place, because it was we who collected everything on one page and you can download Geometry Dash for Android both in the original and in hacked form with mod menu, immortality with knocklip, Speed hax, GRB Mod, Gameplay mods, UI,Noclip, Level EDIT, Generel mods and so on.
We hope you SHARE your find with FRIENDS on social networks – this will be the best reward for us!
Download Geometry Dash (Mod Menu, full, Noclip, Speed hax)_v2.111.apk
Installations: ~128 697 | Size: 85 MB
🔔 Let us – know if an update is required!