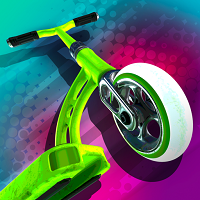 Touchgrind Scooter (MOD, All open)
Updated v1.2.2:
7-09-2023, 22:32
Touchgrind Scooter Mod is a hacked version of an extreme game for your phone, where you will control a scooter and overcome all kinds of obstacles in the form of ramps, railings, stairs and so on. It is worth noting the fact that the game was created by already well-known creators of such games as Touchgrind BMX 2 and Touchgrind Skate 2. This version of the game Touchgrind Scooter on Android was consciously created by all the desire of regular players in the upcoming versions, where they raced bicycles and skateboards!
Touchgrind Scooter Game Features:
Easy control with 2 fingers;

You can apply skins and add stickers to your scooter;

Three difficulty modes from easy to very difficult and several modes for the game – it can be freestyle or duel;

A large number of tasks in career mode;

Unique tracks with scooter effects;

And, probably, 3D graphics, which you are unlikely to see anywhere else!
How to play Touchgrind Scooter?
It is very easy to play the game, and the game will be interesting for modern youth who are fond of extreme sports. So in the game Touchgrind Scooter you will find a lot of extreme because you will not just need to control scooters and jump on ramps, stairs and railings, which requires a lot of concentration and dexterity, not everyone will be able to stand on the wheels of a scooter!
Video from the game:
As you progress through the game, new scooters will open up to you, there are very simple scooters on which you may even have ridden for real, but there are also very cool scooters that can only be found with professional athletes. So in the game Touchgrind Scooter on Android, you will have the opportunity to ride on cool scooters, but for this you will have to pass quite a few levels. In addition to unique scooters, you can apply tuning to them and, for example, create a unique design, and you can also customize various technical configurations!
Download Touchgrind Scooter
So, let's summarize. What have we learned about the game Touchgrind Scooter on Android? This means that you can control the scooter in extreme mode using only two fingers. The game is quite unique both in terms of gameplay and management. You can download the game now using the links below!
Download Touchgrind Scooter (MOD, All open)_v1.2.2.apk
Installations: ~7 578 | Size: 1010 MB
🔔 Let us – know if an update is required!