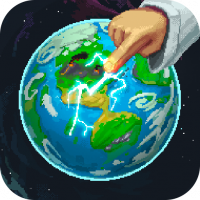 Super World Box (MOD, Full Open)
Updated v0.22.15:
22-09-2023, 20:14
Super World Box (MOD, Full Open) is the best God game simulator, the game belongs to the sandbox genre and is very popular. The Super WorldBox file is completely hacked and has a MOD where everything is open and there is a debag mode, God!
Gameplay:
In the game you will create and create a new life, watch from heaven how it all develops and progresses there, add new people and animals so that there is a cycle in nature. In addition to the usual existing characters in the game there are fictional characters such as Dwarfs, Magicians, Elves and even Orcs!
Playing the Super WorldBox game will be very interesting at any age. After all, what could be more beautiful in the creation of all living things, to watch it grow, and then it collapses itself or wars come and everything around burns with a blue flame. After that, you can start from scratch and avoid future mistakes, do everything so that there are no wars and destruction, and your world grows in population and thrives in the economy!
Among other things, you can always have fun and arrange a real hurricane or any other environmental disaster for your residents, you are allowed to do everything because you are playing God simulator on Android. There are such climate forecasts as tsunamis, floods, fires, hurricanes, droughts and the like.
As for the graphics, it is really simple here and will be understandable to everyone – graphics are a regular pixel sandbox in 2D, somewhat similar to Minecraft. Probably the most important thing for many players will be the fact that you can play the game without the Internet.
Download Super WorldBox
On our website you can download the game Super WorldBox for Android in the original or with the purchased Premium, where everything is open and you can get God mode. To avoid any questions during the installation process, you should read the instructions in the "about fashion" section.
We wish you a pleasant game and most importantly SHARE link with YOUR FRIENDS!
Download Super World Box (MOD, Full Open)_v0.22.15.apk
Installations: ~516 783 | Size: 143 MB
🔔 Let us – know if an update is required!