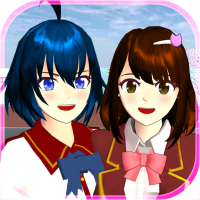 SAKURA School Simulator (Mod, All open)
✦ Garusoft Development Inc.
💰 Mod
Updated v1.041.12:
20-10-2023, 21:09
SAKURA School Simulator (Mod, All open) is an exciting anime game for the phone in which the player is immersed in the virtual world of a Japanese school. In this game you can become a student of the school, explore its territory, communicate with other characters.
Gameplay:
One of the main advantages of SAKURA School Simulator is the player's ability to fully control his character. You can freely move around the school, interact with the world around you, complete tasks and even create your own stories.
There are many characters in the game, each with their own unique story and personality. You can establish connections with them, help them solve problems and complete various missions.
SAKURA School Simulator also offers players a large number of interesting tasks that will not let you get bored. You will be able to explore various locations of the school, participate in sports competitions, learn new skills and much more.
Features of the game:
The possibility of full control over the character;

Study of the school grounds;

Interaction with a variety of characters;

Various tasks and missions;

Unique opportunities to create your own scenarios;

A wide range of ways to spend time in the game, including participation in sports events and learning new skills;

The presence of many characters with unique personalities and stories;

The ability to share your scenarios with other players.
In addition, the game provides a unique opportunity to create your own scenarios and share them with other players. This allows you to fully customize the gameplay to your preferences and enjoy the game to the fullest.
Download SAKURA School Simulator
SAKURA School Simulator is a unique game that is sure to capture you with its capabilities and interesting gameplay. If you are looking for an exciting Android game, then SAKURA School Simulator is a great choice!
Download SAKURA School Simulator (Mod, All open)_v1.041.12.apk
Installations: ~1 160 | Size: 296 MB
🔔 Let us – know if an update is required!
#Simulators #Casual #Childish #HD #3D #Ru #Free #No cache #Mod