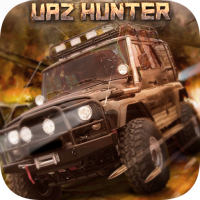 Russian Car Driver UAZ HUNTER
✦ ABGames89
Updated v0.9.34:
26-05-2023, 23:23
Russian Car Driver UAZ HUNTER is a game that will allow you to feel like a real driver of the legendary UAZ Hunter car. In this game you will be able to enjoy realistic physics of movement, plunging into the fascinating world of off-road.
The main feature of the game is its gameplay. You need to drive a UAZ Hunter car on uneven off-road, overcoming various obstacles and difficulties on the way to the finish line. You can also enjoy driving in open spaces while enjoying the beautiful scenery and diverse nature.
The game has several modes, including campaign and free ride. You can upgrade your car, buy new equipment and customize it to your taste. You can also participate in competitions and win various prizes.
The graphics in the UAZ Hunter Driving Simulator are very colorful and detailed. The surrounding world looks very realistic, and the UAZ Hunter car was created with great attention to detail. The sound design is also at a high level, adding extra atmosphere to the game.
In general, UAZ Hunter Driving Simulator is a great Android game that will allow you to immerse yourself in the fascinating world of off-road driving and enjoy driving a legendary car. If you like car simulators, then this game is definitely worth your attention.
Download Russian Car Driver UAZ HUNTER_v0.9.34.apk
Installations: ~560 | Size: 114 MB
🔔 Сообщите нам – если требуется обновление!