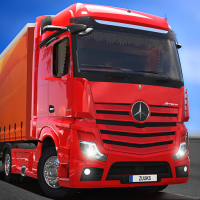 Truck Simulator: Ultimate (Mod, Money)
Updated v1.2.9:
10-06-2023, 08:27
Truck Simulator: Ultimate (Mod, Money) is one of the best games for trucking enthusiasts. In this game you can become a real truck driver and travel around the world, transporting goods from one city to another. Players will get a unique truck driving experience and can enjoy beautiful landscapes and diverse routes.
Gameplay:
The gameplay of Truck Simulator: Ultimate is simple, but very realistic. The player must drive a truck, moving along the roads of different countries and transporting goods from one destination to another. The game features a large number of trucks of various brands and models, as well as a variety of goods that need to be delivered on time. Players can gain experience and earn money to upgrade their truck and transport larger loads.
Features of the game:
Realistic gameplay and dynamic change of time of day and weather conditions.

A large number of different trucks and cargo to be transported.

There are many different routes around the world, from Los Angeles to New York and from London to Berlin.

The opportunity to earn money and improve your truck to transport larger and more expensive cargo.

Compete with other players online and the opportunity to create your own trucking company.

Simple and intuitive interface for more convenient truck management.
Download Truck Simulator: Ultimate
Truck Simulator: Ultimate is available for download on Android devices on Google Play and AndroiDOW respectively. The game is free, but contains in-app purchases that allow you to speed up the progress of the game. If you like games with realistic gameplay and want to feel like a real truck driver, then Truck Simulator: Ultimate is exactly what you need!
Download Truck Simulator: Ultimate (Mod, Money)_v1.2.9.apk
Installations: ~9 478 | Size: 1200 MB
🔔 Let us – know if an update is required!