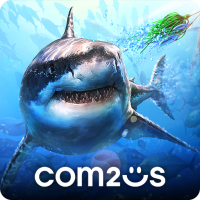 Ace Fishing Crew
✦ Com2uS
Ace Fishing Crew is a new game for all fishing lovers. Embark on a journey through various very beautiful places in the world to catch the biggest and rarest fish. Play one-on-one with your friends and get rewards for every catch.
Ace Fishing Crew Game Features:
Various types of fish: Catch more than 200 species of fish in various places of the world, from tropical islands to the depths of the ocean.

High quality graphics: Enjoy the beautiful views of the water and the environment.

Different game modes: compete in PvP with other players, participate in tournaments and multiplayer modes.

Equipment Upgrade: Increase your rating by improving your gear and fishing gear.

Achievement System: Get rewards for achievements in the game and become the best fisherman.

Various fishing spots: Go fishing in various places of the world, including Alaska, California and the Pacific Ocean.
Download Ace Fishing Crew
Download Ace Fishing Crew to your Android smartphone and enjoy the exciting gameplay anytime and anywhere. The game has not been released yet, we are waiting!