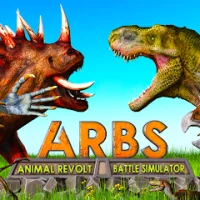 Animal Revolt Battle Simulator APK (mods)
Updated v3.4.3:
3-11-2023, 19:57
Animal Revolt Battle Simulator - I present to your attention one of the best, hacked sandbox simulators with dinosaurs based on real physics in which you can pit two armies of animals against each other and see what will happen, and there will be a battle for life and death!
Incredible effects
You will watch as the animals tear themselves to pieces and their body parts fly in different directions, twisted necks and broken limbs - this is exactly what the drag between these creatures will look like!
Who hid in Animal Revolt Battle Simulator
And in the game you will be able to meet tyrannosaurs, spinosaurs, riceratops, tigers, bears, elephants, rhinos, werewolves, minotaurs, hydra, Spartan warriors, archers, giant crocodiles, cerberus, huge insects, skeleton warriors and many other creatures!
Download Animal Revolt Battle Simulator
Of course, you can already download Animal Revolt Battle Simulator game for Android for free from our server! It is worth mentioning the additional features in which you can attach weapons to animals and dinosaurs, as well as use the editor! In general, download and try - the game definitely deserves your attention!
Download Animal Revolt Battle Simulator APK (mods)_v3.4.3.apk
Installations: ~457 | Size: 684 MB
🔔 Let us – know if an update is required!
#Strategies #Casual #HD #3D #Ru #Free #Online #No cache #Mod