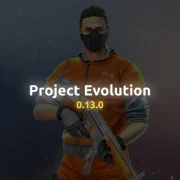 Private Server Project Evolution
Updated v2.0:
1-11-2023, 23:17
Project Evolution is a new private server Standoff 2 v0.14.0 from the developer Yonomiru, another also very popular privatka based on the game Standoff 2 on Android! The author left the previous development and took up this privatka, in it he decided to embody in all its glory (the Evolution Project) with unique skins, new features, improved graphics and other equally pleasant chips that you will not find in the original Standoff 2! The server is updated quite often, which means that Yonomiru them constantly engaged, which can not but please!
Features of Project Evolution Privatka:
Full transfers of the game Project Evolution v0.13 0, with some bugs, but this is still a TEST!

Still unfinished Anichit;

There is no server with accounts, temporarily!
Download Project Evolution - privatka
As a result, you can download the DEMO version of privatka right now from our server at maximum speed!
Full version 1.0 F1:
A new anti-cheat system, an account system (Evolution ID), new maps, minor improvements, new skins, interface and much more have been added to the game.
Privatka has completely switched to the 0.14.0 version!
Download Private Server Project Evolution_v2.0.apk
Installations: ~19 151 | Size: 1240 MB
🔔 Let us – know if an update is required!