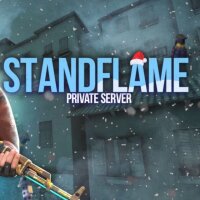 StandFlame (private server)
StandFlame (private server) is another privatka, which at the time of 2023 is the most popular privatka for the game Standoff 2! On the StandFlame server, you can enjoy all the benefits in the form of items, weapons, Standoff 2 skins for free! The server is equipped with all available maps, skins, hints and all this is collected in the usual CHEAT MENU , which is convenient to use right in the game!
The StandFlame game will definitely appeal to all fans of the off version, who are constantly waiting for something new in the original! In privatka you can get all the newest and even more at once – it can be unique knives and weapons, and you can also open cases like in a case simulator!
Since the project is constantly updated, you should follow the release of the new version on our website!
Download StandFlame
Already now you can download StandFlame for Android for free from our server, well, the new version includes a new Stiletto knife, a Lakeside map, new gloves and minor changes, including fixing all errors!
Download StandFlame (private server)_v0.9.1 f1.apk
Installations: ~962 | Size: 660 MB
🔔 Сообщите нам – если требуется обновление!