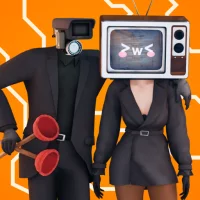 Toilet War (MOD, Money)
Updated v1.2:
20-11-2023, 16:25
Toilet War - have you already played enough of the humorous Toilet Battle game? Meet the new Toilet War on your phones, in which you will participate in real fights with toilet monsters. In the game you can even become a professional sniper, and most importantly it's all in the virtual universe of SKIBIDI Toilets!
In the Toilet War (beta) game, you have to destroy all the toilet monsters who want to taste your blood! You must squeeze at all costs! Join the game now, we are providing a hacked version where you will have a lot of chips, thereby helping you in the difficult task of acquiring the most modern weapons and stronger characters in the form of Cameramen and so on.
The main features of the game are in a complete open world and free movement through it, you can freely walk around the city, find weapons, ammunition and first aid kits, as well as meet various Toilet monsters and shoot them to hit monsters, just aim at them!
Download Toilet War
Probably only the bravest will be able to cope with overcoming Toilet Monsters in the Toilet War game on Android, or maybe you are one of them? Try your hand at the new modern fight and the virtual universe of Skibidi. You can download the APK with the game using the links below. Have a nice game!
Download Toilet War (MOD, Money)_v1.2.apk
Installations: ~81 882 | Size: 424 MB
🔔 Let us – know if an update is required!