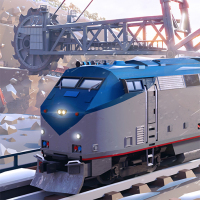 Train Station 2 Railway Strategy
✦ Pixel Federation Games
💰 Mod
Train Station 2 Railway strategy for Android is a game for fans of railway themes and transport management. In this game you will become the manager of a railway station, where you have to manage trains, build new routes, update the fleet of cars and much more.
At the beginning of the game you will have a small railway station with only a few trains. You will need to develop your station, increase its size and add new trains to your fleet. The more trains you have at the station, the more profit you can get.
One of the main features of the game is train control. You will need to manage all the trains at your station, monitor their routes and speed, as well as regulate traffic at the transfer points. If you can properly distribute the trains along the routes, you can significantly increase the profit from their movement.
Download Train Station 2 Railway Strategy
In Train Station 2: Train Games for Android there are many different types of trains that you can add to your fleet. From classic steam locomotives to modern high-speed trains, each type of train has its own characteristics and advantages. In addition, you can upgrade the wagons to improve their characteristics, which will allow you to get even more profit.
The game also has elements of construction. You can build new tracks and railway stations, expand your territory and improve your buildings. This will allow you to manage even more trains and get even more profit.
Download Train Station 2 Railway Strategy_v2.9.2.apk
Installations: ~52 | Size: 275 MB
🔔 Сообщите нам – если требуется обновление!