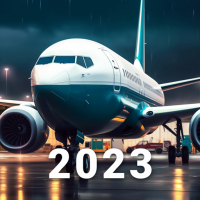 Airline Management
✦ Xombat Development - Airline manager games
💰 Mod
Airline Management is an exciting business simulation on Android in which players can create and manage their own airline.
Game Features:
Creating an airline: Players start with a small airline and can gradually develop it by improving their aircraft and expanding their customer base.

Fleet Management: Players can purchase new planes, upgrade them and use them to transport passengers and cargo around the world.

Marketing: Players should also take care of their airline's marketing to attract more customers and increase profits.

Personnel Management: Players can hire and manage personnel, including pilots, flight attendants and technicians, to ensure the safety and comfort of passengers.

Various Tasks: Players can complete various tasks, such as transporting passengers or delivering cargo, to earn extra money and reputation.

Different Locations: Players can fly to different cities around the world and discover new routes to expand their airline.

Graphics and Sound: Airline Management offers beautiful graphics and sound, allowing players to enjoy the game even more.
Download Airline Management game
This game provides an opportunity to immerse yourself in the world of business and manage your own airline. Unique features, such as HR management and marketing, allow players to fully control their company. A variety of tasks and opportunities to fly around the world give a sense of real business in the aviation industry. Beautiful graphics and soundtrack add an additional atmosphere and realism to the game.
Download Airline Management_v2.5.4.apk
Installations: ~197 | Size: 163 MB
🔔 Сообщите нам – если требуется обновление!