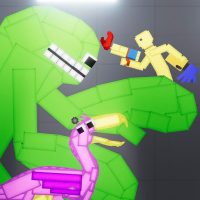 Monster Ragdoll Playground
Monster Ragdoll Playground is an unusual game similar to Melon Playground, in the game players are offered to try real madness in the laboratory, where they can create and experiment with various monsters.
One of the main advantages of Monster Ragdoll Playground is the mechanics of real-time physics, which allows players to control their monsters like motanki dolls. You can throw, twist and throw monsters to test their strength and observe their reaction to the environment.
In addition, the game offers many opportunities for creativity. You can create your own monsters by customizing their appearance and abilities, as well as create your own levels using many different objects and obstacles.
Monster Ragdoll Playground also allows players to interact with each other. You can share your monsters with other players and compete to create the most durable and original monsters.
Download Monster Ragdoll Playground
The Monster Ragdoll Playground game is a unique experience that allows players to enjoy the madness and experiment with their monsters. If you are looking for a game that will allow you to show your creative side and get an exciting gaming experience, then Monster Ragdoll Playground is a great choice!
Download Monster Ragdoll Playground_v1.2.apk
Installations: ~188 | Size: 65.98 MB
🔔 Let us – know if an update is required!