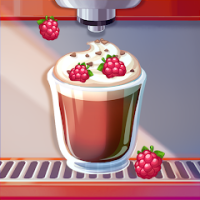 My Cafe - Restaurant Game (Mod, Unlimited Money, Unlocked)
✦ Melsoft Games Ltd
💰 Mod
Updated v2023.5.2.0:
24-05-2023, 20:43
My Cafe - Restaurant Game (Mod, Unlimited Money, Unlocked) is a simulation game in which you will create your own coffee shop and manage it! To attract customers, you will need to create unique recipes for coffee, cake, toppings for croissants and so on. The game will be great for both children and adults!
Gameplay:
The main task in the game My Cafe - Restaurant Game is to create and manage your own coffee shop, where you can prepare various drinks and food. The player must attract visitors who will order food and drinks, as well as decorate and expand their coffee shop as much as possible.
The player must manage all aspects of their business, such as menu, staff, decor, etc. In addition, players can improve their recipes and add new ingredients in order to attract new visitors.
The main feature of the game is its realistic gameplay. The player has to balance between meeting the needs of his visitors and at the same time keeping a profit. To succeed, players need to take into account many factors, such as the cost of ingredients, cooking time and the level of customer satisfaction.
Features of the game:
A variety of dishes and drinks for cooking, which can be improved and supplemented with new ingredients.

A unique coffee shop management system that allows players to decorate and expand their premises.

Realistic gameplay that allows players to balance between profit and visitor satisfaction.

The ability to customize the menu, staff and other aspects of business management.

Meet new visitors and create your list of loyal customers.

Events and promotions that will help players attract new visitors.
Download My Cafe - Restaurant Game
The game My Coffee Shop - dream restaurant can be downloaded from our website for mobile devices on Android. In order to download the game, just go to the download page and follow the instructions on the screen.
The result, the game My Cafe - Restaurant Game is a great choice for those who like to manage their business and create new culinary recipes. The game provides realistic gameplay and many opportunities for a creative approach to managing a coffee shop. Download it from our website and start your journey to creating your own business!
Download My Cafe - Restaurant Game (Mod, Unlimited Money, Unlocked)_v2023.5.2.0.apk
Installations: ~1 735 | Size: 239 MB
🔔 Сообщите нам – если требуется обновление!