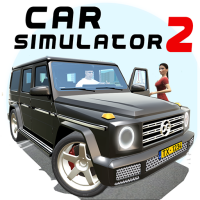 Car Simulator 2 (Mod, Money)
✦ OppanaGames FZC LLC
💰 Mod
Updated v1.46.5:
8-05-2023, 02:16
Car Simulator 2 (Mod, Money) - yes, this is the same car driving simulator Car Simulator 2 for Android, which beats all the ratings in 2023! At the moment, the game has (a hacked version with money) more than 85 new cars, an open world and amazing gameplay, as well as simple controls!
It is especially worth noting the online game where you can play with players from all over the world, race and win races, as well as earn and buy new cars in the store. Among other things, there is the possibility of tuning in your own garage.
The open world allows you or any other players to ride around the open city with your friends, take part in street races and just have fun exploring the city!
Gameplay:
The main element of the gameplay of Car Simulator 2 is driving a car using finger movements on the screen of a smartphone or tablet. You can choose any car from the many available in the game, customize it to your liking and go on the road. The game has many missions that you can complete, such as cargo delivery, racing and test-driving new cars. You can drive on various roads, including city streets, highways and gravel roads.
Features of the game:
Multiple game modes, including online mode;

Free and open world to explore;

Daily bonuses and tasks;

Detailed cars outside and inside;

No views, no cameras - including first person;

Real sound, physics, effects;

Changing the time of day;

Availability of gasoline and gas stations.
Download Car Simulator 2
Car Simulator 2 can be downloaded from our website. Overall, Car Simulator 2 is a great game for car lovers and racing simulators. The game has a high degree of realism and many opportunities to show your driving skills. It also provides many different missions and game modes that will make the gameplay even more interesting and exciting.
If you want to try this game (hacked version), you can download it from our website for free and enjoy driving on your mobile device.
Download Car Simulator 2 (Mod, Money)_v1.46.5.apk
Installations: ~81 | Size: 451.95 MB
🔔 Сообщите нам – если требуется обновление!