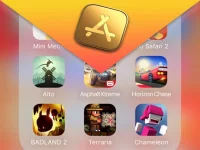 Top 5 games for June on Android 2023!
Today I want to introduce you to The TOP 5 games that were popular in June are completely our TOP according to our users. If you constantly play mobile Android games, then this TOP will be interesting to you and maybe you will find something new for yourself here!
#1 Avatar World: City Life
Avatar World: City Life is a game that has been a leader for months, this time in a hacked form where everything is open! In the game you can feel like a resident of the amazing city of Avatar, where you can explore exciting locations, interact with unique characters and create your own story. Also in the game you will be able to build your house, business and much more, all that you don't have in real life!
Download Avatar World: City Life
#2 Tiny Bunny (episode 4)
Tiny Bunny - the game that became an unambiguous leader in June gets the second place in our list. The exciting fourth episode of the Tiny Bunny game on Android! Get ready for new adventures in a black and white world. Exciting tasks, riddles and puzzles are waiting for you, which you will have to solve to help the main characters of the game.
Download Tiny Bunny
#3 Dead Cells
Meet the rather gloomy but very atmospheric game Dead Cells on Android! Get ready for deadly battles, intriguing puzzles and constant challenges. In this unique bagel game, you will embody yourself in an inanimate body after experiments, exploring dark corridors and dangerous dungeons. Each attempt to complete the game will be unique, thanks to randomly generated levels and a variety of weapons. Wield a sword, a crossbow, magic spells and other deadly weapons to defeat opponents and cope with treacherous bosses!
Download Dead Cells
#4 Melon Sandbox
Melon Sandbox - discover a unique sandbox where you can realize all your craziest ideas. Build, create and experiment with different materials and elements to create amazing worlds and designs. Create a variety of locations, ranging from mountain peaks to sandy beaches, and enjoy the beauty and diversity of the surrounding world. Interact with living creatures and objects to create dynamic and exciting scenes. In Melon Sandbox you will have full control over the game space to turn your fantasies into reality! For those who did not understand - this is a complete clone of the game Melon Playground 16!
Download Melon Sandbox
#5 Pickle Pete: Survivor
Pickle Pete: Survivor - meet Pet, an unlucky cucumber who turned out to be the only survivor of a mysterious disaster. Your task is to help Pet survive in a dangerous and hostile environment full of monsters and secrets. Explore unique locations, collect resources and create the necessary tools to defend and survive. Meet new characters, complete tasks and uncover the dark secrets of the past to understand what happened. You will make important decisions that will affect the outcome of Peta's story. Be vigilant, every step can be dangerous, and only you can save Pet from imminent death. Are you ready to become a hero and overcome all the difficulties in Pickle Pete: Survivor on Android? Time to act!
Download Pickle Pete: Survivor
That's it! If you liked our ANDROIDOW TOP, then you can follow these news on our website, and you can also subscribe to our telegram channel!
#News