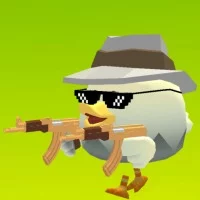 Chicken Gun (Private Server)
Updated v1.4.9:
24-09-2023, 03:40
Chicken Gun (Private Server) - I present to your attention the best private game in which gamers play for funny pituhi, arranging crazy shootouts among themselves, driving cars and just having fun on the Internet! The incredible dynamism of the game, the action genre and pixel style as in Minecraft, made this game a real masterpiece and a hit of our time for many years to come!
Of course, you can always play the original version of the game Chicken Gun presented on our website, but you can play a private server when you are tired of the original and want something new, more dynamic and fun!
Server Features:
A function that allows you to kill everyone;

I use a function that you can shove everyone into your car;

Attracting objects to yourself;

You can teleport to any place;

And many other buns from developers!
Download Chicken Gun private server
From our website, you can download Chicken Gun private server at maximum speed right now for free for Android. Have a nice game in chicken fights!
Download Chicken Gun (Private Server)_v1.4.9.apk
Installations: ~88 968 | Size: 135 MB
🔔 Let us – know if an update is required!