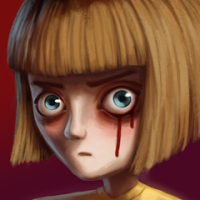 Fran Bow (full version)
✦ Killmonday Games
Fran Bow (full version) is a Gothic horror quest developed by Killmonday Games and released in 2015 on PC. Players take on the role of Fran Bow, a little girl who ends up in a psychiatric hospital after her parents kill themselves. Fran Bow must now understand what is going on in this hospital and find a way out.
Gameplay:
Players explore the world around them, solve puzzles and collect information to learn more about the plot and characters. The game is divided into chapters, each of which has its own theme and atmosphere. The gameplay of Fran Bow resembles classic quests in terms of solving puzzles, and also has many elements of horror and fiction.
Features of the game:
One of the main features of Fran Bow is its atmosphere. The game takes players into a dark, sinister world filled with strange characters and unexpected events. In addition, the game contains some pretty violent and terrible moments that may not be suitable for all ages.
Download Fran Bow
Since the game was released on Android, now you can download Fran Bow for Android for free from our server and not pay - we have the full version! Have a nice game!
Download Fran Bow (full version)_v1.0.0.apk
Installations: ~23 | Size: 500 MB
🔔 Сообщите нам – если требуется обновление!
# Horror #Priklyucheniya Adventures #HD #3D #Ru #Free #No cache