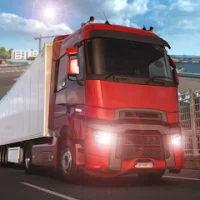 Real Truck Simulator
Real truck simulator is another simulator for driving trucks and transporting goods over long distances. This time, the creators of the game have thought through all the convenient location of the driver in the cab of trucks!
The game offers realistic physics and a dynamic day and night system that create the illusion of real life on the roads. You will drive on various roads and highways, overcome mountains and cross rivers and lakes. The game also features various weather conditions that create an additional challenge for truck drivers.
You need to monitor the fuel and condition of your truck so as not to get into unpleasant situations on the road. You will receive orders for cargo transportation and earn money for your work. You will be able to use the money earned to improve your truck, buy new trailers and other useful improvements.
The game has a simple and intuitive control interface that makes it easy to control the truck, change the speed and direction of movement, use signal lights and other functions. The game also features various modes, including career mode, free ride mode and multiplayer mode.
Real Truck Simulator Download
A real truck simulator for Android offers an exciting and realistic game mechanics that allows players to feel like a real truck driver. This game will be interesting for both simulator lovers and those who want to experience all the delights of road life and go from an ordinary driver to a real truck tycoon.
Download Real Truck Simulator_v2.8.apk
Installations: ~36 | Size: 104.27 MB
🔔 Сообщите нам – если требуется обновление!